TACLog HOME PAGE
WHAT IS TACLog
TACLog differs from the mainstream logging programs. The most important difference is the FREE INPUT FORMAT. Where most other programs "dictate" the order and format of the input data during contesting, TACLog gives you freedom of operation, both on the air and on your computer. TACLog provides excellent "fringe benefits" from logging, such as ultra-fast dupe-checking, fast search & find functions, QSL function ...... plus the ability to configure the program for use in practically every type of contest on VHF/UHF/SHF. It also handles print-outs, summary sheets and logs, all in accordance with Region 1 rules. TACLog is also capable of generating several types of EDI-files for electronic data interchange: REG1TEST, RSGB 97, ARRL suggested standard file, ADIF proposed specification and Cabrillo version 2.0.
TACLog HIGHLIGHTS
Free format input (random order), see screens
User selectable usage of reports, WWLs and Optional Exchanges
Multiband support for 16 bands simultaneously
Counters for DXCCs, WWL, DOK/UK Counties/CQ/ITU/States/Provinces...
IARU Region 1 standard file REG1TEST, RSGB 97, ARRL, ADIF and Cabrillo formats
Automated locator look up, also vs. band
Search and find functions
QSO-points vs. distance, RSGB radial ring and WWL ring
CW & voice messages (voice keyer or Sound Blaster), PTT and key on COM/LPT interfaces
Dual rotator controlling using TACBox 2 or FodTrack interfaces
Multiple user dependent editor environment and voice messages
QSL management
Tons of statistics, reports and polar (beam) maps
Configurable for thousands of different contest
Wizard set-up for various contests
Set-up for maximum performance of PC
Accepts microwave WWLs (JO65FR22)
Converts WWL to closest WWL (JO65 -> JO65xx)
Context sensitive help texts in different languages
Runs on 8088 PC (XT) or higher with more than 450 kB of free memory
DOS program, may be used under Windows, Win NT, Win 95/98, OS/2, Soft Windows
Compliant with IARU Region 1 VHF Committee distance calculation and commenced km rounding recommendations
+ much much more, try it and you will love it!
The TACLog Challenge Cup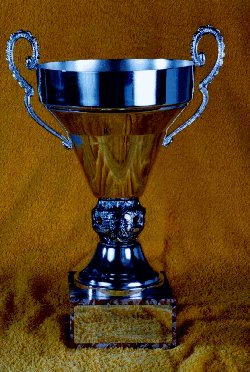 The TACLog Challenge Cup Hall of Fame
---
TACLog Lite
TACLog Lite is the little sister of TACLog. It offers only a limited number of all the features TACLog has, however, this also makes it much easier to step into. This might be relevant if you are new to computers or just want the basic stuff. Also, if you later decide to use TACLog the migration is much easier.
Another benefit of TACLog Lite is the computer requirements: only 375 kB of memory will do.
Download TACLog Lite 1,04 (183 kB) here.